When it comes to developing a quality bi-fold door there are many things to consider to guarantee it delivers fantastic performance and can withstand the test of time.
One big concern among homeowners is how safe and secure the system is – and rightly so. Acting as a connection between the inside and outside it's essential the right measures are put into place when it comes to developing a complete bi-fold system which offers peace of mind to homeowners by being reliable, robust and secure.
As specialists in the manufacture and design of all bi-fold hardware, we're incredibly familiar with the correct process that's needed to create shoot bolt locks. We understand not only what it takes to develop a quality locking system but we also understand how to meet homeowner expectations.
In this blog, we closely explore what type of lock bi-fold doors have and provide examples of the shoot bolt locks we've designed and launched into the bi-fold door market.
The importance of testing the security of a bi-fold door
Although bi-folding doors have grown in popularity among UK homeowners over the years, it's still incredibly important to reassure anybody looking to invest in a bi-fold system that the one they've chosen will guarantee safety within their home.
A fantastic way to do this is by running a series of tests which have been specially designed to see how well the lock and overall structure of the bi-fold door performs.
We always recommend the systems houses and fabricators that we work closely with to complete tests during the manufacturing phase because it's a fantastic way to identify any weaknesses in either the door's construction or locking mechanisms before it goes to market. This means that the necessary steps can be taken to address and resolve any issues to make sure it performs at its best.
At Debar, all of our products undergo PAS 24 testing, the standard used to showcase that windows and door sets successfully meet the industry benchmark for quality and offer peace of mind to the homeowner that with this product its extremely difficult for intruders to force entry.
By being able to showcase that the bi-fold door you've created has successfully passed this standard of testing is another unique selling point which will help to make your product stand out from the competition.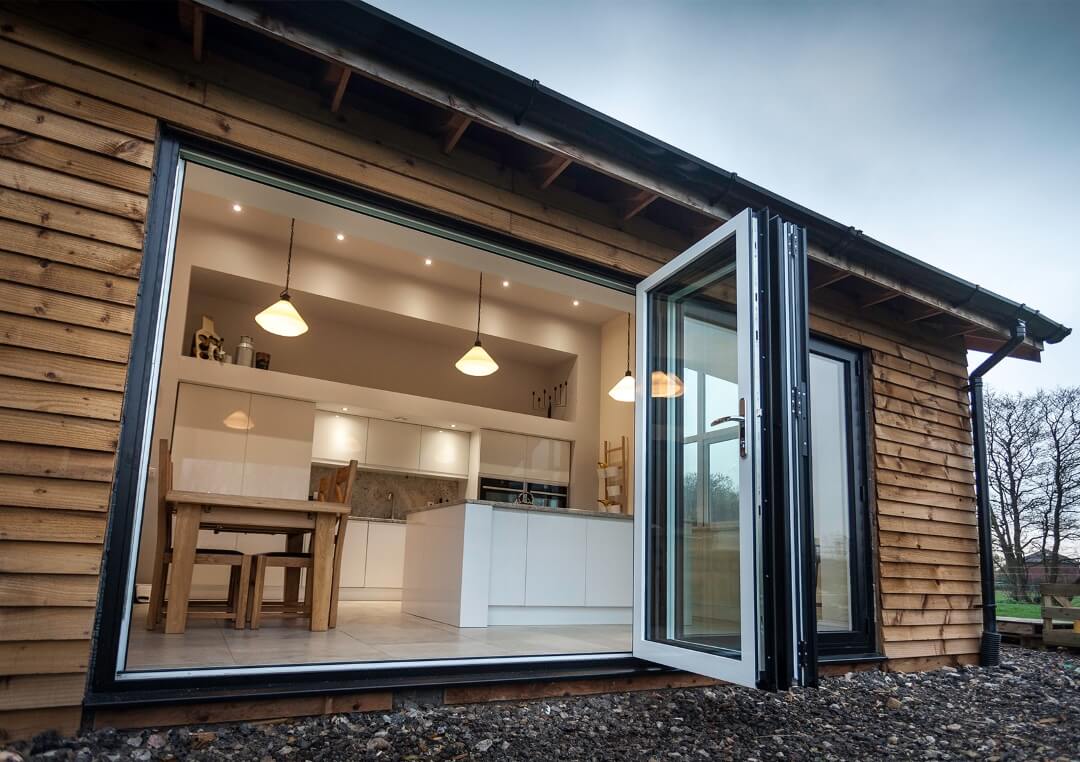 What type of lock do bi-fold doors have?
As mentioned above, assuring a home is safe and secure is paramount so it's important every bi-fold door is fitted with a special security lock. There are a range of options available and each one has its own specific use.
Cylinder Lock
A key-operated lock with a pin-and-tumbler mechanism held within a cylinder. It uses differently sized pins for added security.
Twin Lock (Two-point Lock)
This lock secures both the top and bottom of the bi-fold doors with a single handle movement.
Deadbolt Lock
Offering high levels of security, a deadbolt lock is perfect for bi-fold doors and can be operated using either a key or twisting mechanism.
Shoot Bolt Lock
A shoot bolt lock is a manual lock that is incorporated with the two-point lock and secures the door panel at both the top and bottom of the bi-fold door, enhancing the security and functionality of the system.
Multi-point Locks
As its name suggests a multi-point lock incorporates various locking mechanisms at different points around the frame and track of bi-fold doors, helping to enhance security by safely securing the doors at multiple locations. It is often located on the main door and locks into the frame at five points including a dead bolt in the middle, two hooks located into the side frame and shoot bolt which appears in the top and bottom track.
Debar specialist bi-fold door locks
With 15 years of experience in the bi-fold door market, we have a wide range of knowledge on bi-fold hardware and one of our key areas of expertise is manufacturing shoot bolt locks.
As well as being incredibly durable, the heavy-duty nature of our locks guarantees they provide the required security and stability for bi-fold doors of various sizes and configurations.
In fact, our shoot bolt locks can be used in a number of different bi-fold systems which is great news for any systems houses or fabricators looking to develop their own bi-fold doors.
We have two popular options of shoot bolt locks available and each one provides a reliable solution for a range of applications.
Robus Shoot Bolt Lock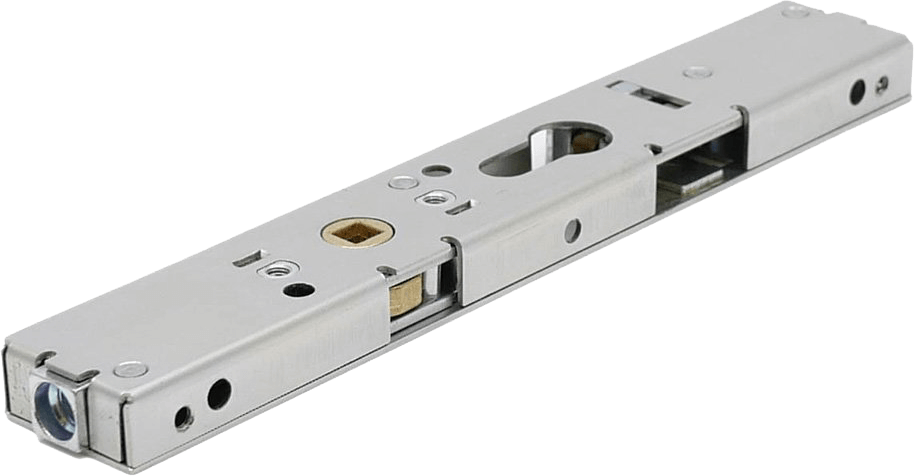 Ideal for residential or commercial applications, our Robus shoot bolt lock provides two points of engagement to safely secure the top and bottom of the bi-fold door panel which better protects the property against forced entry and extreme weather. It also allows any configuration of bi-fold door to have access from both the inside and outside, either with or without a key or cylinder.
Amazingly versatile, this high-grade corrosion resistant lock can be tailored to suit your specific needs. For instance, it comes with the option to add push fit side spaces (which is ideal for open chamber constructed doors), cover caps and shoot bolt ends and guides.
Some additional features and benefits of the Robus shoot bolt lock include:
Threaded rod connections provide easy adjustment up to 15mm
Two versions of the lock are available for M8 or M10 threaded rods
Heavy-duty steel construction
High-grade corrosion protection
Compatible with 18mm Euro profile cylinder when key locking is required
To check out the full technical specifications and accessories click here.
Robus Compact Lock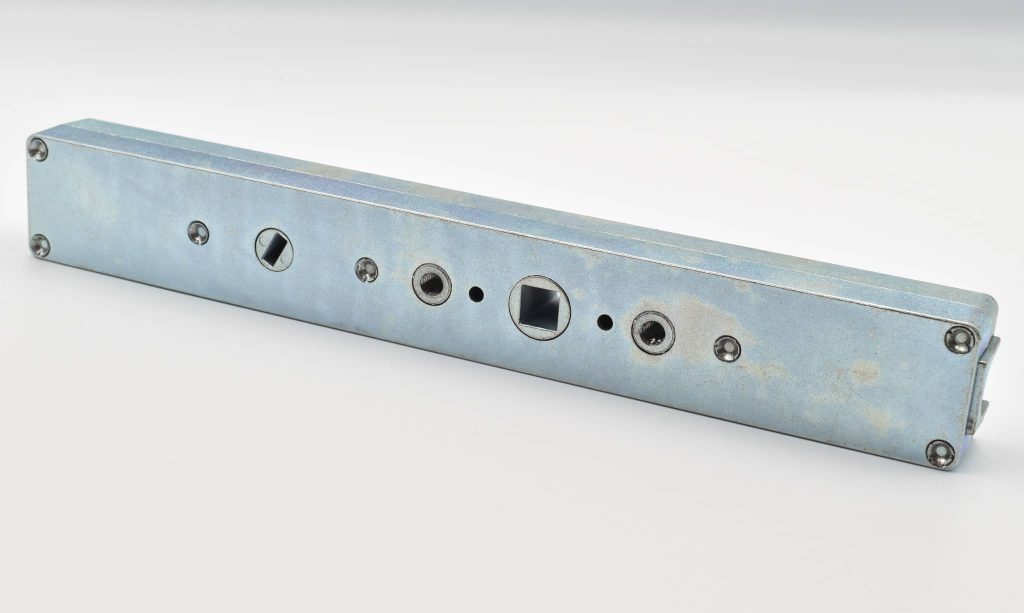 The latest product to be added to our collection, the Robus Compact as its name suggests is suitable for slim bi-folding door profiles which allows increased sightlines without the need to compromise on security.
Like the Robus shoot bolt lock it is suitable for residential and commercial applications and provides two points of engagement to safely secure the top and bottom of the door panel. For improved performance, the threaded rod connections provide easy adjustment and intolerances.
Plus, it also features a number of other technical specifications and benefits including:
A strong lock which achieves a >90Nm torque
Specially coated to provide corrosion resistance
A slimmer compact style means less profile machining
Handles turn 180 degrees
Fits the M10 threaded bar, but other sizes available on application
For more information on the Robus Compact click here.
Key Wind Lock
At Debar, we have a passion to continuously evolve and adapt our product offering so we are currently working in the background to introduce a new lock to our range.
This new lock includes a key operated latch and deadbolt with a full multi-point lock containing four roller cams. Plus it also features:
Euro profile lock case
16mm faceplate width
Reversible handing
Key wind
Finding support for bi-folding door locking systems
As an essential part of every bi-fold door, it's fundamental a quality lock is used on the system to help deter potential intruders and to provide homeowners with complete peace of mind. Our team of experts have been working closely with systems houses and fabricators across the UK and beyond for several years, they can offer a range of support and guidance for anyone looking to break into the bi-fold market.
Get in touch today to find out how the team can help you with your next project.