We're pleased to announce the launch of a new strong and compact lock perfect for slim bi-folding door profiles.
Allowing for increased sightlines without compromising security and only 26.5mm wide, the Robus Compact is made from high-strength zinc diecast and has been properly coated making the product fully corrosion-resistant.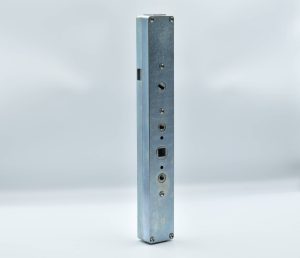 Suitable for residential and commercial applications, Robus Compact provides two points of engagement to secure the top and bottom of the door panel. Plus, the threaded rod connections provide easy adjustment and tolerances for improved performance.
The smaller size and design of the lock certainly won't impact the result as Robus Compact is incredibly secure and can achieve an impressive 90Nm Torque.
Like all of our products, this slimline lock will also undergo PAS 24 testing to measure its security performance to guarantee it is incredibly difficult for intruders to force entry.
Marjanas Petraitis, Technical Manager at Debar, comments: "Our new Robus Compact is a fantastic addition to our well-established bi-fold lock range.
"For many years we have led the way in the market for designing and manufacturing high-quality bi-fold hardware and components, and the brand-new Robus Compact is no exception. As its name suggests, this lock is small in size making it the perfect match for a slim bi-fold profile.
"This is one of the slimmest locking bi-fold gearboxes with the largest lock throw of 24mm. Compatible with any existing Debar handle, Robus Compact delivers outstanding security, incredible functionality and even protection in extreme weather."