An incredibly important part of any bi-folding door system is the locking mechanism. Guaranteeing safety and security for homeowners is essential so they have peace of mind their homes will be well protected against unwanted intruders. In fact, the type of lock that's used will no doubt be a determining factor as to whether or not the homeowner invests in the bi-fold.
With a range of different bi-fold locking mechanisms available on the market, we've pulled together this comprehensive guide to highlight the key benefits and features of two popular locks that are frequently used within a bi-folding door system.
But first, let's take a closer look at the importance of installing an efficient bi-fold lock.
The importance of an efficient aluminium bi-fold door locking system
Efficient locking mechanisms play a fundamental role in ensuring bi-folding systems are secure which, as we mentioned above, is a must-have for homeowners.
A robust and durable lock will not only properly protect any home, and its belongings, from unwanted intruders but it will also be able to withstand the elements and resist corrosion which is incredibly important.
As leading bi-fold hardware specialists, we understand exactly what's needed to design and manufacture a quality bi-fold door lock. In fact, we've developed our own locks which have been specially made with both the fabricator and the homeowner in mind.
Spotlight on the Debar Robus shoot bolt lock
Our Robus shoot bolt lock is a heavy duty steel lock that works effectively with intermediate panels of a bi-fold door. It provides two points of engagement as the connecting rods shoot the bolts into the top and bottom tracks which efficiently secures the doors.
Used in either residential or commercial applications, the Robus shoot bolt lock has high grade corrosion protection and works with any configuration of bi-fold to have access from both inside and out – with or without a key or cylinder.
To ensure the shoot bolt works on a number of different bi-folding systems, we've designed the lock so that fabricators have the option to include cover caps as well as shoot bolt ends and guides.
In terms of technical specification, the Robus Shoot Bolt also features:
8mm and 10mm thread versions as standard
M5 screw holes inside the face for a cover
The handle turns 90 degrees to fully operate
Shoot bolt throw of 23mm
7mm spindle hold
Handle screw centres at 43mm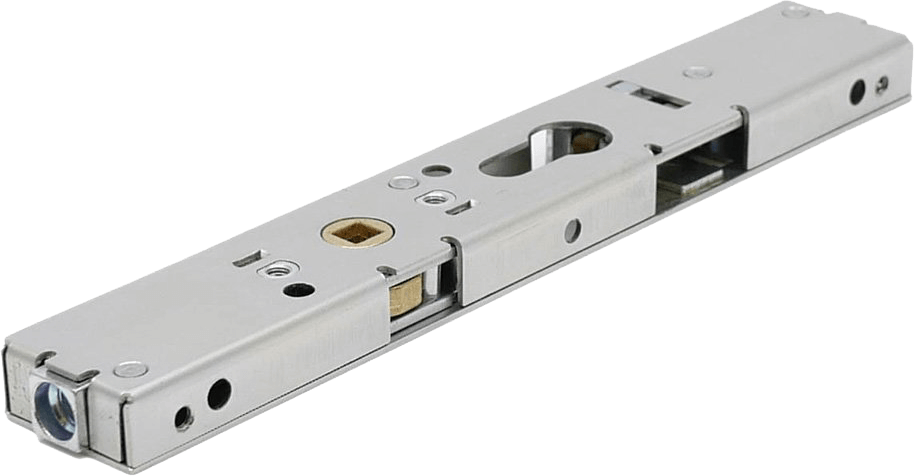 Exploring the Debar Robus compact lock for slim profiles
The Robus compact lock, as its name suggests, is a small yet strong lock that allows for increased sightlines at only 26.5mm wide. Made from high-strength zinc die cast, the Robus compact has been properly coated to ensure the product is fully corrosion-resistant.
Similarly to the Robus shoot lock, the Robus compact provides two points of engagement to successfully secure the top and bottom of the door panel.
The size of this lock certainly doesn't impact the performance as it can achieve an incredibly impressive 90Nm Torque.
Some of the key features, benefits and specifications of the Robus compact include:
Threaded rod connections provide easy adjustment and tolerances
Fits the M10 threaded bar, other sizes available on application
Optional shoot bolt end guides
Cover caps available to suit all profiles
10mm thread, other sizes available on application
Handles turn 180 degrees
Option for integrated cylinder
7mm spindle hole
Handles screw centres 43mm
Shoot bolt throw of 24mm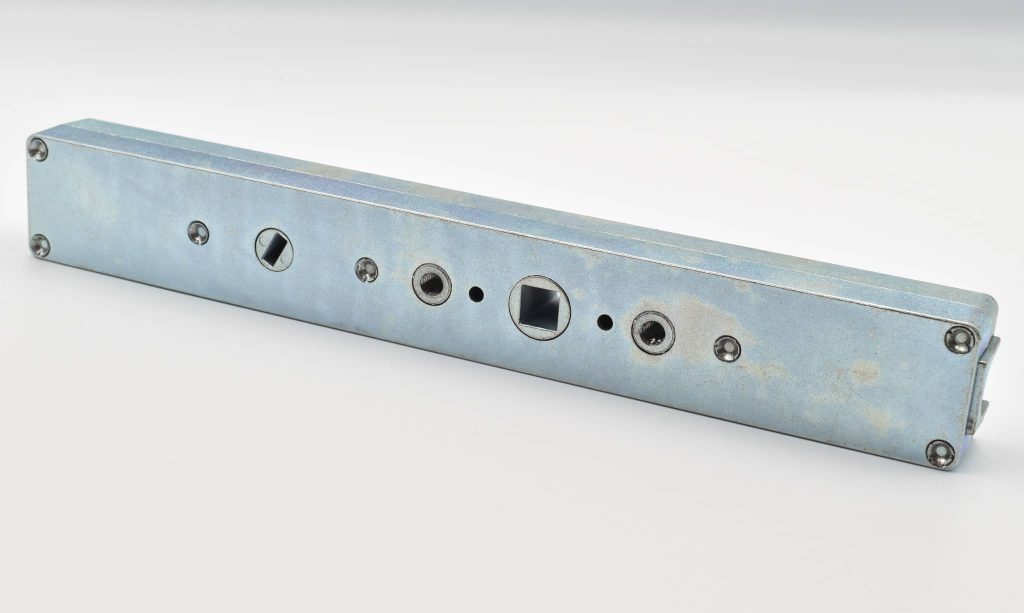 Security standards for bi-fold doors
With excellent security being of utmost importance for bi-fold doors, we'd always recommend testing the system to make sure it complies with safety and security regulations and insurance requirements.
All Debar bi-fold locks undergo PAS 24 testing which specifies strict criteria for enhanced security performance on door sets and is designed to prevent the type of attack from opportunistic burglars.
What type of lock should be used on bi-fold doors?
When it comes to knowing what type of aluminium bi-fold door locking mechanism that should be used on bi-fold doors, there are a range of options available and the one you choose should tick all of your requirements from a security perspective.
If the door lock is high-quality, compatible with your bi-fold door and provides the level of security and functionality needed, then it should deliver great results.
Are you looking for any additional support on bi-folding doors?
If you're new to the bi-fold market and need additional support on how to fabricate a quality system, speak to a member of our team today. They have a broad range of knowledge and experience and can offer top advice and guidance on a range of bi-fold door needs.
Explore the full range of Debar bi-fold door hardware
As the UK's leading bi-fold hardware manufacturer and supplier, we develop a broad range of bi-folding door components including hinges, rollers, handles, catches as well as other parts and accessories.
Check out all Debar bi-fold hardware products here.